About our Upcoming Events:
Construction Fraud:  Detection, Prevention & Response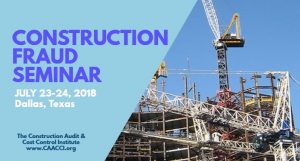 July 23-24, 2018  – Dallas, Texas –  Earn 16 CPE
Explore types of fraud common to construction, techniques for reducing construction fraud and how to respond when fraud surfaces.
Reviews from Seminar Participants:
     "Great ideas – makes me think of things we are not doing."
     "Relevant information that our group can utilize in our audit shop."

Instructor:  Mr. Courtenay Thompson
Courtenay is a recognized authority on training managers, auditors and investigators in fraud-related matters.  His practical approaches have yielded dramatic results for seminar attendees.

LEARN MORE About this Course
---
Effective Auditi

ng of Construction Activity

 

July 23-24, 2018  –  Dallas, Texas  –  Earn 16 CPE
Learn how to establish and implement audit coverage to maximize "risk-based" cost avoidance and cost recovery audit results.  This course will benefit all Owner organization representatives involved with auditing or administering construction activity.
Reviews from Seminar Participants:
     "This course was one of the best audit classes taken in a long time.  Valuable and relevant."
"Opened my mind to new thoughts on construction auditing."
Instructor:  Mr. Rich Townsend
Rich has over 30 years of experience conducting construction audits and construction cost control consulting.
---
7th Annual Construction Audit & Cost Control BEST PRACTICES
Round Table Workshop
Nov. 13-14, 2018  –  New Orleans, LA  –  Earn 16 CPE
This dynamic two-day program which will center around the presentations of 12 experienced and successful professionals recognized for their leadership and expertise in construction audit and cost control. Don't miss out on the interactive exchange of ideas and solutions to current issues and future concerns, and get your questions answered by these industry professionals.
Review from Workshop Participant:
"Instructors are very interactive and provide/share great examples for every topic."

LEARN MORE About this Course
---
CURRENTLY AVAILABLE IN OUR MEMBER'S LIBRARY
Recommended Construction Contract Language
– Exhibit A – Change Order Pricing
– Exhibit B – Right of Audit
– Exhibit C – Business Ethics Expectations
– Exhibit D – Cost of Work
Construction Audit Procedures
Newsletter Archive
Subcontractor Change Order Pricing Template
Listing of Annual Maximum Amounts Subject to State Unemployment Tax By State
Articles of Interest
Links to Helpful Construction-Related Web Sites
Reference Documents Downloadable from the Internet
List of Recommended Construction Cost Control Reference Materials
---
CAACCI Members currently include project management and construction audit representatives from the following types of organizations:
Public University Systems
Private Universities
Health Care Organizations
Major Manufacturing Organizations
Residential Real Estate Development Organizations
Commercial Real Estate Development Organizations
Owner Organizations Developing Large Casino and Resort Hotel Properties
Public School Districts
Oil and Gas Companies
Power Generation Companies
Owner Organizations Constructing Large Office Building Projects
State Department of Transportation Departments